Tom's friend, George, on Thursday night, suddenly lost the use of his legs. He is in Bristol Children's Hospital and at present, they don't know what has happened. An MRI scan hasn't shown any trauma and so they are awaiting tests next week to see if it's viral.

What a difference a week makes... This is George on the left, with Tom and their friend, Cary, last Friday as they were going off to their prom... where they danced the night away.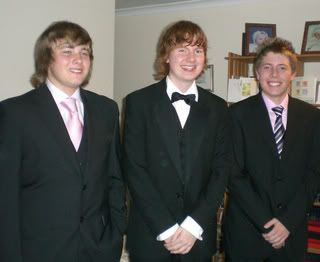 This Friday George was stuck in a hospital bed, unable to walk and suffering the indignities of not being able to get to the toilet.

Please send your thoughts, prayers and healing vibes to George and his family. We are all praying that he will be fully fit for his 16th birthday in a couple of weeks.

Thank you.