Not been very productive this week with one thing and another.

Firstly, a quick update on George. He is having some new treatment and which seems to be having good results. We're hoping to see him tomorrow morning, so I'll report back then.

Yesterday I had a wonderful day out with my chums, Kathy and Suzy. We went to visit Julie at Lushlampwork
We had such fun - and actually made a few beads!! Here's a pic:


I think the ones I made are the pink/purple one at the front, the amber one at the back and the turquoise/green one at the back on the right. And one of the plain ones.

I can see why people get hooked on this bead making malarkey! It was great fun. But, I'm going to stick with the jewellery and buy my lampwork beads... but I now have an even greater respect for those who make these amazing little works of art.

So here's a set which features the work of one of the best lampwork artists around.
This for my lovely friend, Anne, whose 50th party we are off to tomorrow. The lampwork is by the wonderfully talented Helen Brodt-Savage and I've teamed her beauties with Sterling Silver, Sand Opal Swaros and lovely deep blue pearls.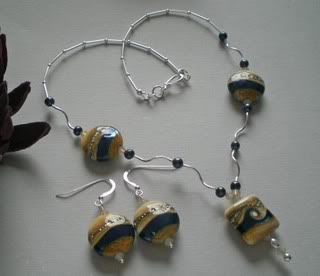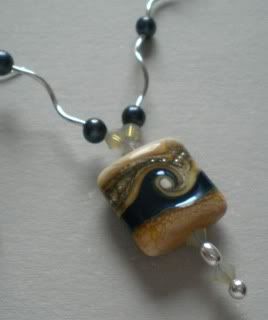 The second one is made with Tagua beads. I first saw these at Spring Fair and have been itching to get some ever since. A couple of weeks ago a new shop opened in Clevedon, mainly selling gifts, but with a small bead room at the back - and what had they got? Yep, my tagua beads. They are very light - also called Vegetable Ivory - and are the dried seed pod of a tropical rainforest palm tree . They come in a wonderful array of colours and shapes and don't break the bank. You'll be seeing more of these!
Here I've threaded them onto beading chain and teamed them with Thai Silver.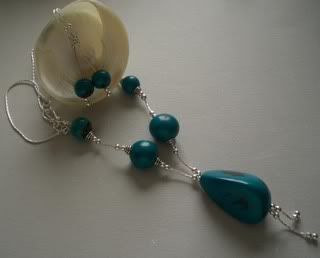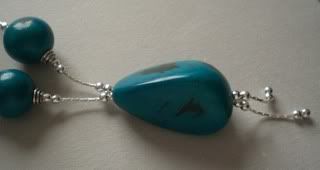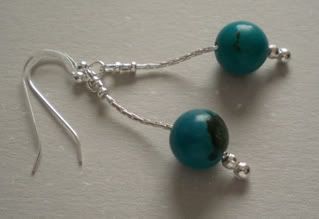 So, tomorrow we're off to see George in the morning, then to Tintern for Anne's party - which should be great fun as she's dusting off the disco that she and her husband, Pete, used to run back in the 70s! I shall be dancing all night to the hits of yesteryear!

I hope you have a great weekend.

Much love to you all.