I've been doing loads of maille recently - and as I only do it in front of the TV, I must have been watching far too much telly! It's really thanks to the Euro footie and now Wimbledon. Who are you rooting for on Sunday? I'll be shouting for Rafa myself!
This first one is a Y-shaped necklace in antique silver plate and clear AB magatamas - the 'dangle' is double shaggy loop (four bead bearing rings per base ring) and the rest is single (two beady rings per base ring). I really really like this set and think I might have to make one for myself...
The next one is a set that I've made in loads of different colour-ways - here are just two. Silver plated rings with magatamas and toning anodised aluminium rings. The earwires are niobium.
And then onto bracelets... The first one is Byzantine in silver plate and copper. I wan't sure about the combination of metals, but I think it works. I'm currently doing a necklace in the same design.
Then an aluminium and rubber ring bangle. The rubber rings mean that the bracelet is stretchy. These bangles are great fun and always attract attention at parties and shows.
A double shaggy loop bracelet - that is mine, all mine! I so rarely actually make something for myself, but I had to have one of these bracelet and mine is blue, turquoise and clear magatamas. I just love it. And doesn't Perky model it well?
And lastly, just to show that I've not only been mailling - a rose quartz rondelle and hematite bracelet.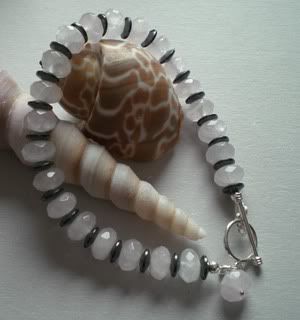 On the home front we had Martha's report home tonight and she's got really excellent results and the teachers are all so pleased with her progress. She's gorgeous and a great kid, too.
I hope you all have a good weekend. The forecast for this part of the country is pretty dismal - with a gale warning! And we were hoping to put together our new garden furniture and eat out... ah well, we'll have to wait. If we get it put up, I'll post up a picture... it took us ages to find exactly what we wanted - only for it to be in B&Q all the time!
Love and hugs to all. xx