Yes, three new sets listed today!
They were actually made before Christmas but I didn't have time to photograph them before today. Of course, today turns out to be the dullest day in the history of the world... not exactly what you need for taking photographs.
However, it provided a good test of the Photoshop Elements software that Father Christmas brought for me. For a first go, I don't think they turned out too badly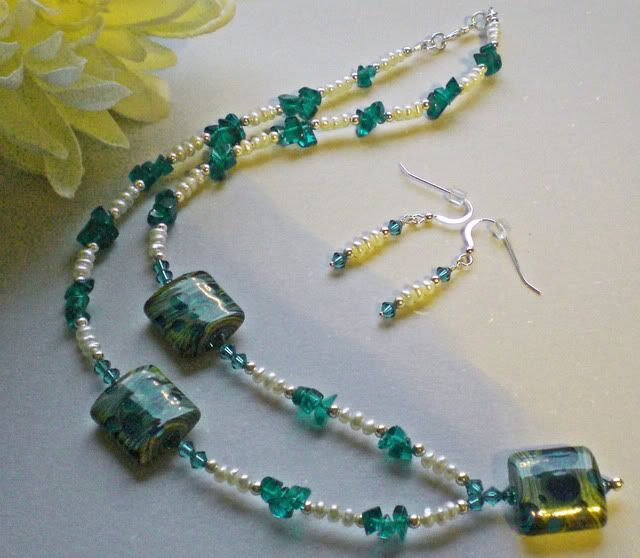 This first set features beads by the very talented Helen Brodt-Savage. I love her beads... but so do lots of other people and hence, the price can go too high on ebay for me. Also, if you then use a lot of the beads, then the jewellery becomes expensive too. In this set, I've used just three and so the price can be kept at a reasonable level.
The glass chips are a really good match for the beads and I like their jaggediness (is that a word?) amongst the smoothness of the other beads. There are also little ivory freshwater pearls and Swarovski crystals.
I got a new set of Helen's beads in the post this morning... and they are stunning... so watch this space!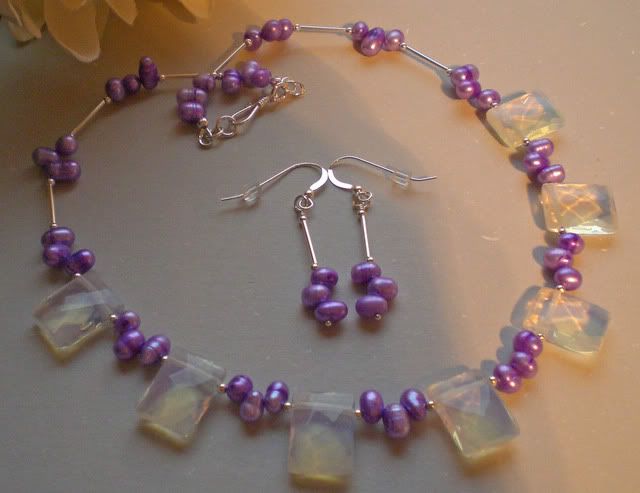 This set is a real show stopper! The freshwater pearls are a fabulous shade of purple and they are top drilled - dancing pearls, which means that they don't hang in an orderly fashion. At the front of the necklace, I have separated the pearls with rectangles of top drilled opalite. The rectangles are faceted and so catch the light. At the back of the necklace I've used Sterling Silver tubes instead. This is one to get you noticed!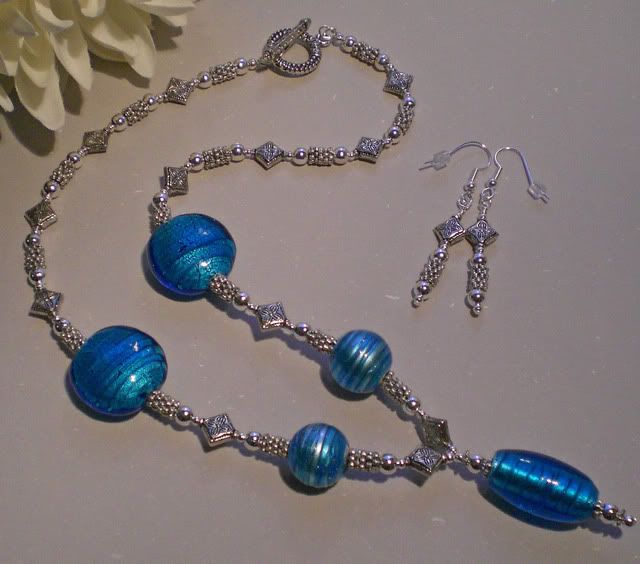 This final set was rather an experiment. The silver-lined beads are quite large and nothing I strung with them looked right - they needed chunkiness. Then I hit on the idea of using Tibetan Silver... something I used a lot when I was starting on jewellery making, but not much lately. The knobbly tubes are actually daisy spacers strung in clumps of five. These, teamed with some Tibetan diamond shaped beads and some silver plated beads gave exactly the look I was searching for. I think I'll be using this effect again.
OK, so I've broken the duck for this year. I hope to be back with some more additions very soon!