Been busy the last few days making this: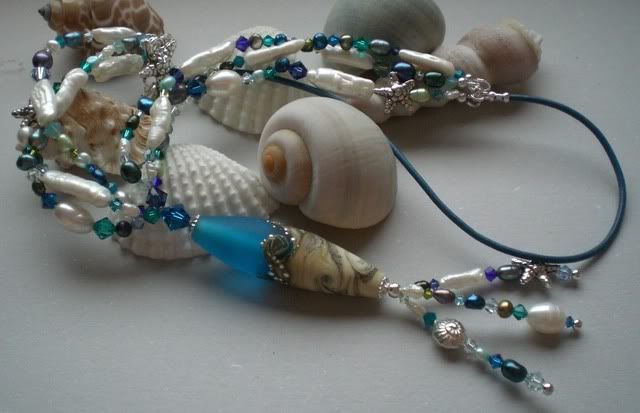 The fabulous focal is by Julie Fountain (http://www.lushlampwork.co.uk/). I'm sure Julie won't mind me saying that she's not been making lampwork beads for very long... but she's certainly got the knack and is producing beads like she's been at it for a lifetime.

This particular one just said, "Beach, holiday, sand, sea and sun." So I've teamed it with loads of freshwater pearls and Swarovski crystals in Caribbean sea colours, along with a few Thai Hill Tribe silver beads: starfish and a shell. The clasp is also in the shape of a starfish and because it's so gorgeous, I've made the necklace side fastening. The back of the necklace is blue leather.
This will form part of my Marine Project which has been the main project for my jewellery course this year. Once that has been assessed, the necklace will appear on the website (if it's not been sold beforehand!).