What a horrible, horrible morning. It's SO wet and windy. Roll on the spring...
I've been adding more things to the website: this time it's memory wire bracelets and bookmarks.
Bookmarks were a huge seller in the run up to Christmas. I made loads with little Swarovski crystal dragonflies - some will be added to the website shortly - and then larger ones with lampwork beads. All the beads are completely unique and have been made by some of the UK's best lampwork artists, so this is an affordable way for people to own a little piece of today's glass art. Here are a couple: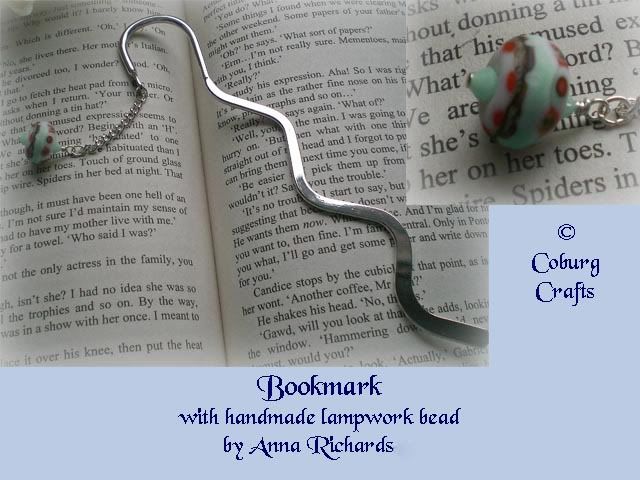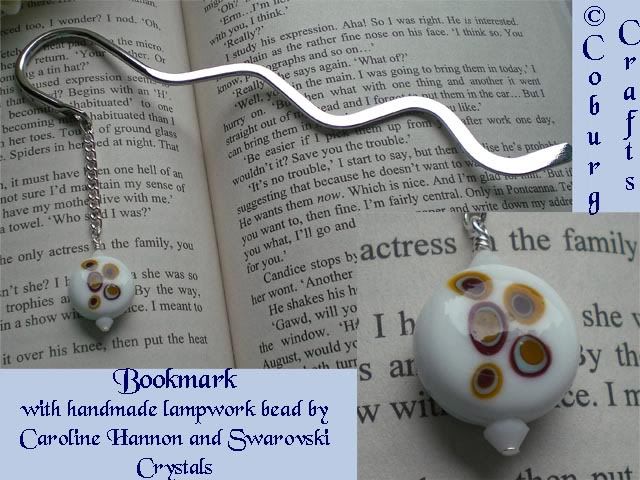 Memory wire bracelets continue to be good sellers. Part of their appeal, I think, is the lack of a fiddly clasp, as you just wind them round your wrist.

Today I'm off for a long meeting with Sarah, my partner in crime... oops sorry, my partner in craft fairs and jewellery parties. We're going to look back at the events we did last year and see how we can improve our operation and see what lessons we have learned.

But before that, it's the weigh in at WW. I've not been perfect, but I've eaten less than in the weeks over Christmas, so hopefully I shall have started on the downward slope. As long as I've made even the slightest inroad into the 5lb I put on over the festive period, I shall be happy!