After doing that repair and making the tassel, I'm hooked! Made another one:
It will be on the website in a couple of days... hopefully!
Building update: plasterers have finished in the kitchen/diner - so we'll be getting on with the painting so it's ready for the floor and the kitchen fitter on Monday. Still quite a bit of work to be done in the cloakroom, but hopefully that'll be done tomorrow and plastered on Wednesday... which is also the day the kitchen is being delivered... great excitement!

Some gorgeous beads arrived this morning:




They are some 'orphan' beads from Beads-on-Toast... My mind is already whirring with ideas - they're all so lovely!
The person who commissioned the aqua rondelles set saw them on Saturday and bought the second set shown. The other set will be on the website later this week.
I also finished a competition entry today. The piece had to be inspired by a holiday destination. My favourite place to visit is Southern Ireland - especially the south-west corner - and so I decided that my theme would be '40 shades of green'. I went for a charm bracelet: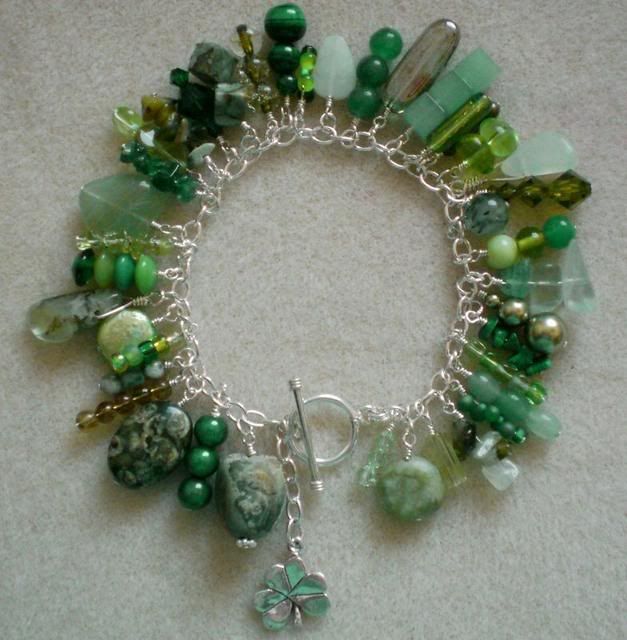 There are 40 green charms on a Sterling Silver chain. The charms have been made with: New Jade, Freshwater Pearls, Green Tourmaline, Malacite, Serpentine, Green Quartz, Rhyolite, Tree Agate, Prehnite, Peridot, Fluorite, South Sea Jade, Aventurine, Swaros and Glass. The shamrock is Sterling and I love the fact that it should be green... and isn't!
We got the goldfish today! My daughter is a great Charmed fan and so they've been named Cole, Phoebe, Piper and Leo. She already has a (stuffed) rabbit named Paige. They're all different - black, black and gold, white and gold and all white - and pretty lively. Quite interesting... for goldfish!